Who would've thought, snow in Louisiana. Again. For the second year in a row. I love it, really. My little brother, Jaxon, and I were screaming frantically in the car when the rain turned into soft fluffy snowflakes. Literally. My poor vocal chords are in pain now. Jaxon and I are spending the weekend in Lafayette at my Nannie's amazing townhouse while my parents go to my sister's soccer tournament in New Orleans. I'm jealous, really, because this is the second time this month that I had to choose staying in to study over spending the weekend shopping and having fun in New Orleans. It's really for the better. Even though I'm missing out on that, I will get to hang out in Lafayette with my Nannie and my brother and cozy up to my school books after that. I will hopefully get lots of studying done tonight so I can spend the whole day tomorrow with my lovely boyfriend, Julian. Anyway, back to the snow. I'm so excited about it. Since I forgot all but one pair of my boots at home when I went to my apartment in Baton Rouge this week, I ended up wearing my black over-the-knee boots 3 times in 4 days! So today, in preparation for the freezing temperature, I wore *gasp* pants! I mean, what was I supposed to do? Wear a skirt and tights without boots? That would have been impractical for the cold. So I sucked it up and wore pants, even though I had work today. These are no ordinary pants, however. They are black velvet skinny jeans that I got for super cheap on the sale rack at Express last year. They are as comfortable as leggings and a whole lot warmer. Last night it was so cold when I got back to my apartment that I decided to skip washing my hair because I would have been too cold. So today, I knew I had to wear a hat. I chose my newest hat, a grey felt cloche hat from Urban Outfitters with a cute flower detail. Hats are great because they are a cute and easy fix for hair on mornings when you're pressed for time, and they keep you very warm. For my top, I wore a plain navy v-neck shirt with a cute rose colored cardigan. Layers are so warm, even if they're thin layers. I also wore a white and purple striped scarf (which I stole from Julian about a year ago) and my lovely Kensie Girl overcoat that I got as a Christmas present last year. To play in the snow, I also have a purple pair of vintage gloves that my mom got when she was in college. Cold weather is WONDERFUL when beautiful clothes are keeping you warm!
This is without the overcoat: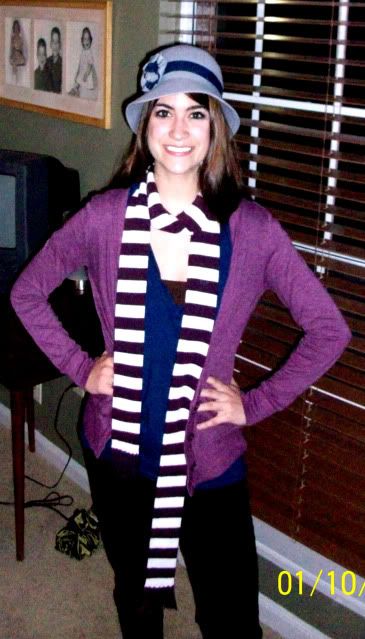 This is with the overcoat: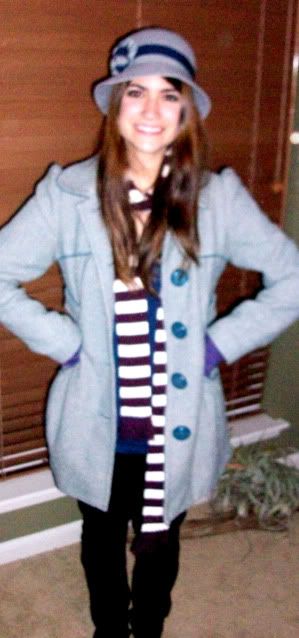 My adorable brother in the snow: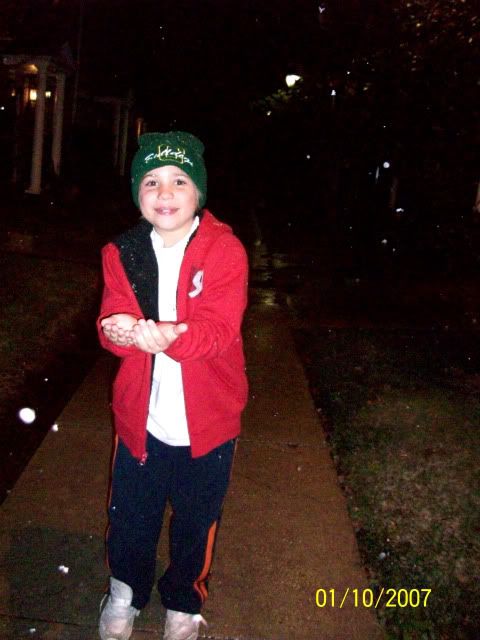 It only snowed a little, but it was still fun!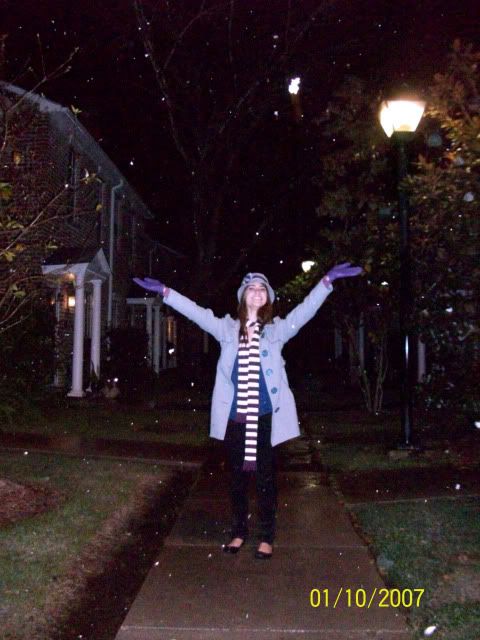 To keep warm and look nice doesn't always require sweatpants and Uggs. I was so warm today with this outfit. I only wore solid colors, but I kept it interesting by incorporating interesting shades of purples and blues with black, along with cute details like the flower on my hat and the stripes on my scarf. To make a similar outfit, choose different shades of bold colors that don't match perfectly, but look nice together. Pair these colors with dark pants and boots or ballet flats. Keep it interesting by adding interesting details, like a hat with a cute design, a headband, or even a standout piece of jewelry. And if you are lucky enough to be in the part of the country where it is snowing, enjoy yourself and make a cute snowman!
Snow Outfit
by
queeniecabrini
featuring
Miss Selfridge
My boyfriend is also a great example of dressing cute and still keeping warm! Wearing a striped scarf that matches really well with his hooded plaid jacket from www.urbanoutfitters.com (though you can't see the green in the picture), along with a navy beanie, Vans slim jeans and adorable brown loafers. I taught him well.